Appointment Policy
respecting each other's time
Missed Appointments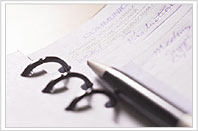 When you book an appointment with us, that time is set aside for you - and ONLY you. We never double book and we try to always be ready for you when you arrive. In return, we ask that you show up for your appointment on time.
Please understand that missed appointments prevent us from catering to other patients.
If you are running late or unable to keep your scheduled appointment, please let the office know as soon as possible.
Cancellations
In the event that you are unable to keep your scheduled appointment with us, please give us the courtesy of calling to cancel or re-schedule your time. Even a few hours notice allows someone else the opportunity to use that time.